Editor's Note: This article was originally published on August 10, 2020. It has been updated to include new guidance on student loan forgiveness provided by the Department of Education.
The Coronavirus pandemic has caused the federal government to take unprecedented steps to help borrowers manage their debt.
In March, the CARES Act became law, and the interest rates on federally held student loans were set to 0%, and payments were deferred until September 30th, 2020. In August, President Trump signed an executive order extending the payment and interest freeze until December 31st, 2020.
The break from student loan payments was a welcome surprise to many borrowers. However, it has also caused some confusion. How does this impact borrowers chasing Public Service Loan Forgiveness? Will this time count towards PSLF? Does it count towards the 20 or 25-year Income-Driven forgiveness plans? Is there anything borrowers need to do?
Because Covid-19 was not anticipated when the student loan contracts were drafted, and when the PSLF law was passed, there isn't an existing procedure in place. Fortunately, there are a few simple steps that borrowers can take to help ensure that time on a virus deferment can still count towards student loan forgiveness.
The CARES Act on Student Loan Forgiveness
One of the great features of the CARES Act is that it explicitly said that during the months that payments were suspended, borrowers would still get credit towards student loan forgiveness programs. (The applicable text from the legislation is available here.)
In response to the new law, the Department of Education created a page dedicated to answering questions about the Coronavirus relief program. The requirements for the time to count towards student loan forgiveness are pretty clear: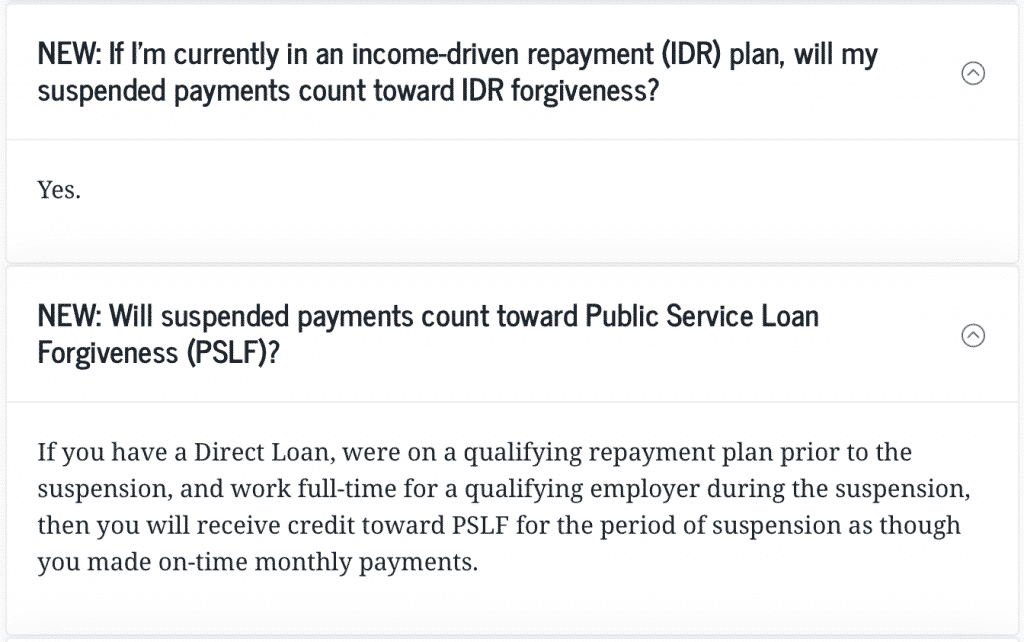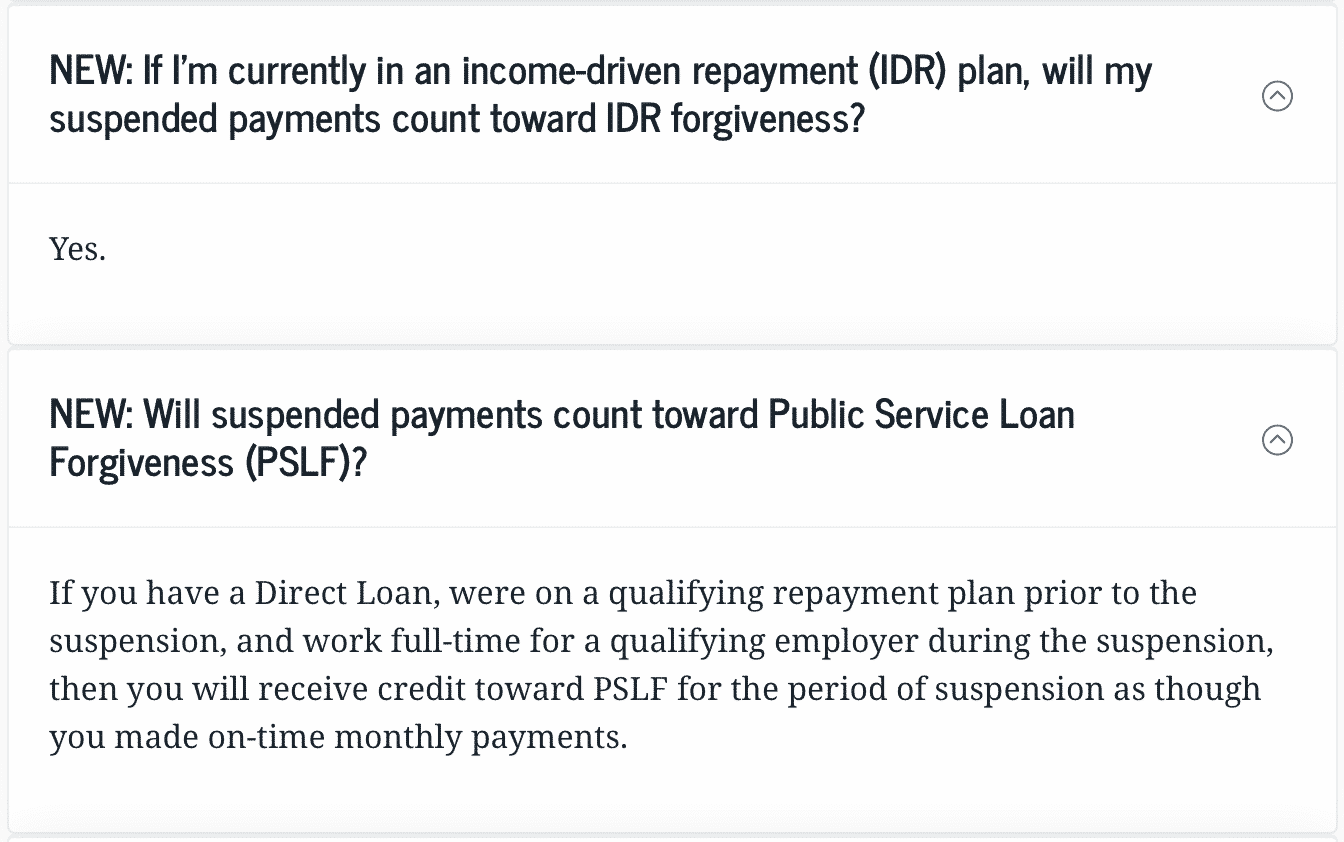 In short, under the CARES Act, borrowers should not need to make extra payments or take any additional steps to get the time to count towards student loan forgiveness. However, the CARES Act student loan relief ends on September 30th, 2020.
Things may get more complicated, starting on October 1st, 2020.
Trump's August 8, 2020, Student Loan Executive Order
After the Trump Administration and Congress failed to reach a deal on a second stimulus bill, President Trump signed a series of executive orders related to Covid-19. Among the orders, Trump continued the pause in student loan payments and interest. Under the executive order, the interest and payment freeze is set to continue until December 31st, 2020.
These executive orders have been controversial, as many have argued that they overstep executive authority. Lawsuits may be forthcoming. However, the student loan executive order is likely permissible as the collection of student loan payments probably falls within the Presidential authority. (This is the same authority that Elizabeth Warren said she would use to Forgive Student Loans without any help from Congress.)
The confusing part of the executive order on student loans is that it doesn't make reference to student loan forgiveness. Without specific language about the payment pause time counting for programs like PSLF and income-driven forgiveness, borrowers are left in limbo.
One of two things will likely happen to clarify the confusion:
The Trump Administration, likely Secretary of Education Betsy DeVos, will clarify the position and explain whether or not the executive order pause will count towards forgiveness.
A new stimulus bill, a CARES Act 2.0, could extend the interest rate freeze through legislation and include the same forgiveness provisions as the CARES Act.
Update: The Department of Education has issued a press release explaining that the payment and interest rate freeze period covered by the executive order WILL COUNT for Public Service Loan Forgiveness and Income-Driven Forgiveness.
It is worth noting that President Trump originally signed an executive order in March, pausing student loan payments and interest. Like the August order, it was silent about loan forgiveness. The CARES Act superseded the original order and had clear language about forgiveness. If another stimulus bill is passed, expect it to clarify the student loan forgiveness question. Additional legislation may also extend the payment break into 2021.
Will Making Extra Payments Help?
Some readers have questioned whether or not making typical payments might help in their quest for student loan forgiveness.
Because the CARES Act is clear, there shouldn't be any benefit to making unrequired payments from March 13th until September 30th, 2020. The ambiguity in the August 2020 executive order means that it could theoretically be useful to make payments starting in October.
Before the October confusion starts, expect a more definitive answer from either the Secretary of Education or from Congress. With borrowers struggling, it would be unreasonable to put people in a position where they don't know whether or not making payments will help their cause.
Steps for Borrowers to Take to Count Time Towards the Forgiveness Clock
Under the law, there are not any extra steps that borrowers need to take to get the Covid-19 relief time to count towards forgiveness.
Sadly, as most student loan borrowers know, loan servicers are prone to making mistakes. The payment and interest freeze is a new process for all loan servicers, so the possibility of a glitch certainly exists.
Even though forgiveness could be years or decades away for some borrowers, some steps can be taken now to avoid delaying student loan forgiveness.
Get an updated count on progress towards forgiveness.

Public Service Loan Forgiveness candidates can submit an employer certification form right away.
Borrowers working towards forgiveness on an Income-Driven Repayment plan such as Income-Based Repayment (IBR), Pay As You Earn (PAYE) or Revised Pay As You Earn (REPAYE) can ask their servicer for an updated tally of payments as of March 2020.

Get an updated progress report after the payment freeze ends.

We don't know how long Covid-19 or the payment freeze will last, but when it eventually ends, get another updated tally.
If there is an issue, it will be easier to address when it is identified right away.
Servicer statements on progress could be very useful if later updates have a mistake.

Keep a timeline of all eligible payments.

If borrowers don't keep detailed records of their progress, they won't know whether or not their servicer made a mistake.
It might be hard to prove a payment was made many years later, but setting aside records as you go will make things easier.
Taking these extra steps may not be required, but when operating in a system where mistakes often happen, having proof of progress is incredibly valuable. Considering how much debt many borrowers stand to have forgiven, it could be time very well spent.