It is a terrible sensation—that sinking feeling in your stomach. I think I just got scammed. You tried to fix your student loan issues, and now you fear you have become one of the many borrowers to fall victim to a scammer.
If there is good news in this situation, it is the fact that hope is not lost.
There are steps borrowers can take to get their money back. There are also steps borrowers can take to help shut down the scam and protect others.
Don't Be Ashamed
Before jumping into specifics on dealing with a student loan scam, I think it is important to address a common feeling among borrowers: shame.
You don't deserve to have this happen. We live in a continually evolving world—technology changes. The rules for student loans change. It is easy to get overwhelmed.
Student loan scammers prey upon confused borrowers.
Those same scammers hope their victims will be too embarrassed to get their money back. Don't let them win.
Verifying if a Student Loan "Service" is a Scam
Sometimes it isn't apparent whether or not a student loan company is legitimate.
In many cases, a simple Google search of the company in question will provide a definitive answer.
More detailed resources for evaluating potential scams are available on the Texas Attorney General website and the Minnesota Attorney General website. Consumer protection is one of the roles of a state Attorney General.
In my opinion, this graphic from the Federal Trade Commission (FTC) is one of the best. It is simple and straightforward but does a great job of identifying the major red flags.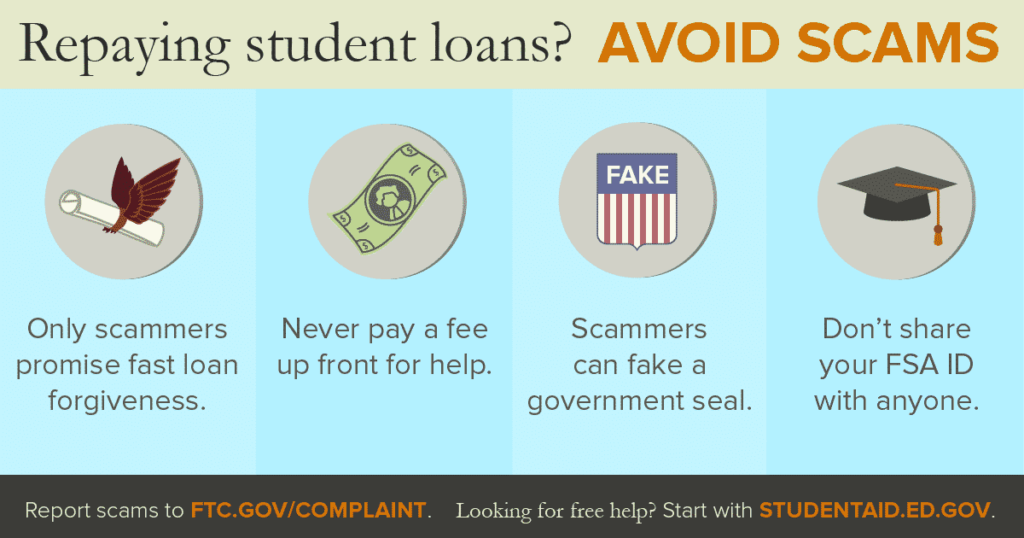 If you are uncertain about whether or not you have been scammed, be sure to check out our comprehensive article on identifying and avoiding student loan scams.
Immediate Steps to Fix the Mess Caused by a Student Loan Scam
In most cases, there are no hard deadlines. However, the sooner you can act in response to a scam, the better.
Call your student loan servicer. They can tell you about recent requests made on your behalf. They can also guide borrowers in the process of getting things back in order.
Change your passwords. Start with changing your FSA ID password. To be extra safe, you may want to change your student loan passwords and even your email password.
Talk to your bank or credit card company. If you have bill pay or auto-debit, turn it off. Your financial institution may have additional security recommendations. Better yet, they may be able to stop payments to the scammer. If you paid by credit card, dispute any charges.
Start keeping detailed records. Save any email conversations you have. Write down what you can remember from all phone interactions. Use your call history to help trigger your memory. These records may help get your money back, and they may also help get the scammer shut down.
How to Help Yourself and Others
One of the best things you can do in this situation is to alert the appropriate authorities. Government agencies may move slow at times, but they have potent resources to shut down fraud and help borrowers fix the mess caused by a student loan scam.
Start by calling or filing a complaint with the Attorney General in your state. Additionally, you can report fraud with the FTC.
These complaints may also be useful in dealing with your bank or credit card company and disputing charges. Be sure to keep copies of your complaints with the other records you saved.
Facebook posts and negative reviews also help, but they are less critical. Social media and online comments won't get scammers shut down, but this information does help other borrowers avoid mistakes.