Being able to sign up for an Income Based Repayment Plan is a huge perk to federal loans.  However, IBR and PAYE are not plans that you can just sign up for and forget about.  In order to stay on your income based repayment plan, it is required that you re-certify your income each year.  While this process can be a little clunky, it can be done in a few minutes by most.
Most lenders will send out a letter a few months before your plan expires reminding you to send in the paperwork.  Getting everything addressed before your plan expires is critical because it helps you avoid any expensive months on the standard repayment plan.  Because lenders and postmen make mistakes, it is recommended that you keep track of when your 12 months are up.  I personally re-certify IBR and do taxes at the same time each year.  Going this route helps ensure that I don't forget.
The actual steps to re-certification are pretty simple…
Step 1: Go to your lenders website
At your lender website the link you will be looking for will be to manage repayment plans, or something similar.  If you have myfedloan, you will want to click on the link on the left side that says, "Manage Repayment".  From there, click on the link to "Change Repayment Plan".   There you will see a link to "Re-Certify" payments.
Note: For some lenders, such as Navient, there is no link or form to fill out in order to re-certify.  They will just instruct you to go to studentloans.gov.  In that case, proceed directly to Step 3.
Step 2: Fill in the blanks
There shouldn't be too much work required for this part.  The only tricky detail is finding out how much your gross adjusted income was on your previous tax form.  Once you complete the forms and submit, you will be taken to studentloans.gov.
Step 3: Go to studentloans.gov
In order to complete this step you will need to remember your federal PIN.  This number was the one that you used to fill out the FAFSA.  Once you are logged in, the screen you are taken to will look something like this if you are coming from the lender site: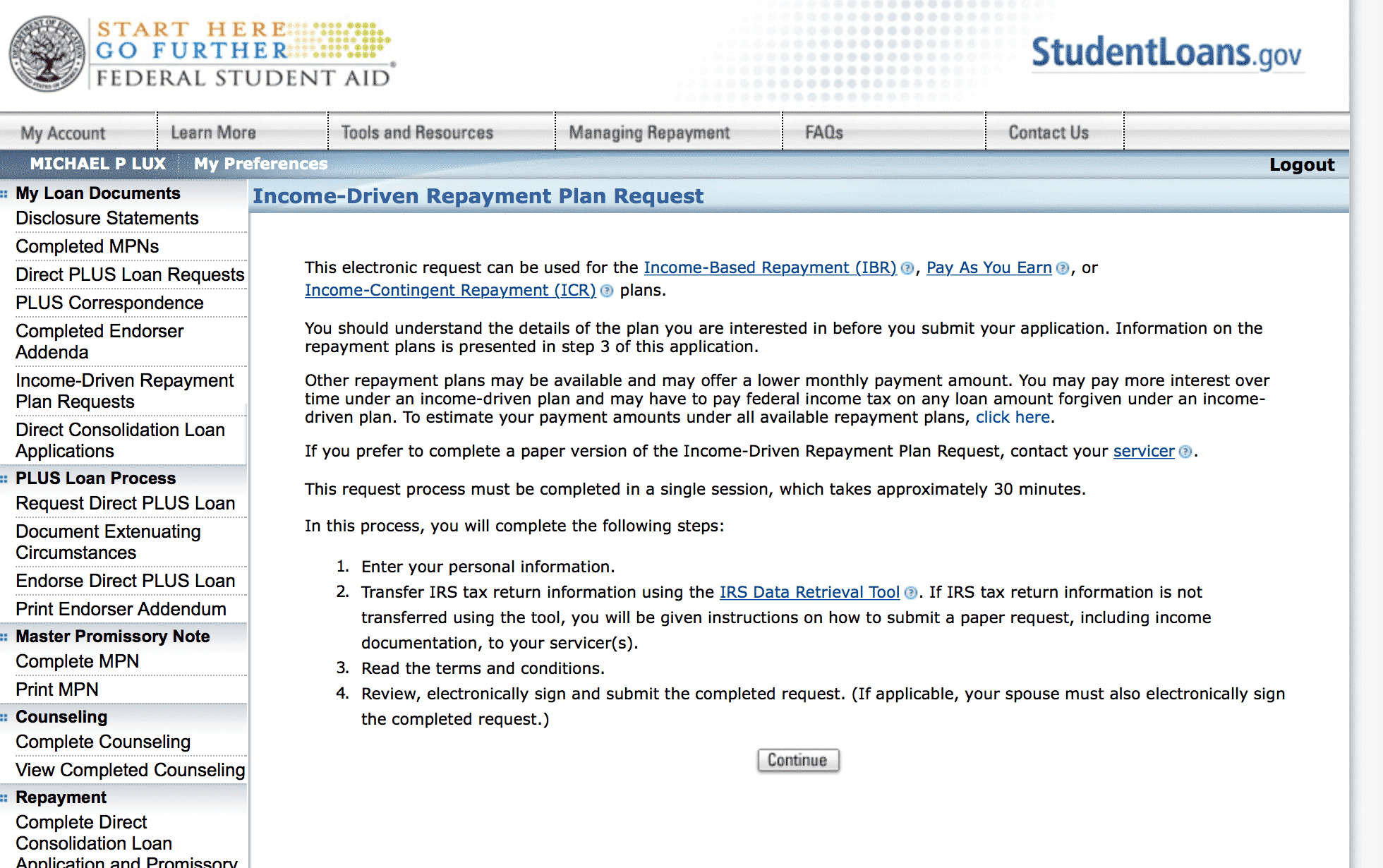 If you went directly to studentloans.gov, you will first have to click on the link to "Complete Income-Driven Payment Plan Request" as shown below:
Step 4: Pick your reason for IBR/PAYE calculation request
In this case, our purpose is for the annual recalculation, so select the second choice.

You will also have update your contact information with the Department of Education on this page.
Step 5: Link up with the IRS
The purpose for the link up with the IRS is so that you can authorize the IRS to send your tax information to studentloans.gov and your lender.  This is how they verify your income.  In order to authorize the IRS to send over your information, you will have to prove your identity with them.
Step 6: Send Your Information
Once you have completed the necessary identification process with the IRS, you will be given the option to have the IRS electronically send your proof of income to your lender.  Choosing this option will allow your application to be processed as quickly as possible.
Step 7: Wrap Up
Once you have submitted your proof of income from the IRS, the only remaining step will be to monitor the progress.  Lenders may tell you that it takes months to go through the entire process, but if you did it electronically, it should be done rather quickly.  The important thing is to keep an eye on everything.  If a couple weeks have passed and you haven't heard anything from your lender, give them a call to see if they received the IBR application.  If for some reason it got lost, you can go to studentloans.gov and get a pdf copy of the application.
Finally, be sure to mark your calendar or set a remind on your phone to make sure you remember to go through the same process next year.